Alicante Rental Bikes – Bike Rental office in San Juan Beach
Alicante Rental Bikes – Bike Rental Office – Avda. Holanda, 7 / Avda. Santander, 14 – local 5 – Edificio Leo – 03450 – Playa de San Juan


IS NEEDED PREVIOUSLY BOOKING TO GUARANTEE THE SERVICE, THANKS FOR CONTACT US!
info@alicanterentalbikes.com / 622 955 746 (WhatsApp)

ESTABLISHMENT HOURS DECEMBER: Monday-Friday (10.00 a.m – 14.00 p.m)
Monday-Wednesday-Friday (09.00 am-15.00 pm ) / Tuesday -Thursday (09.00 am-14.00 pm / 17.00 pm-20.00 pm)
Saturday (10.00 am-13.30 pm)

WE OPEN MONDAY/WEDNESDAY/FRIDAY EVENING WITH PREVIOUSLY BOOKING.
The place where hire your bike is ALICANTE RENTAL BIKES, Avda. Santander nº14 local 5. We have available city bikes, road bikes, e-bikes, btt, trekking bikes and accessories. Advance booking is needed to guarantee the service in ALICANTE RENTAL BIKES OFFICE! Please contact us now to confirm availability!
FOLLOW US!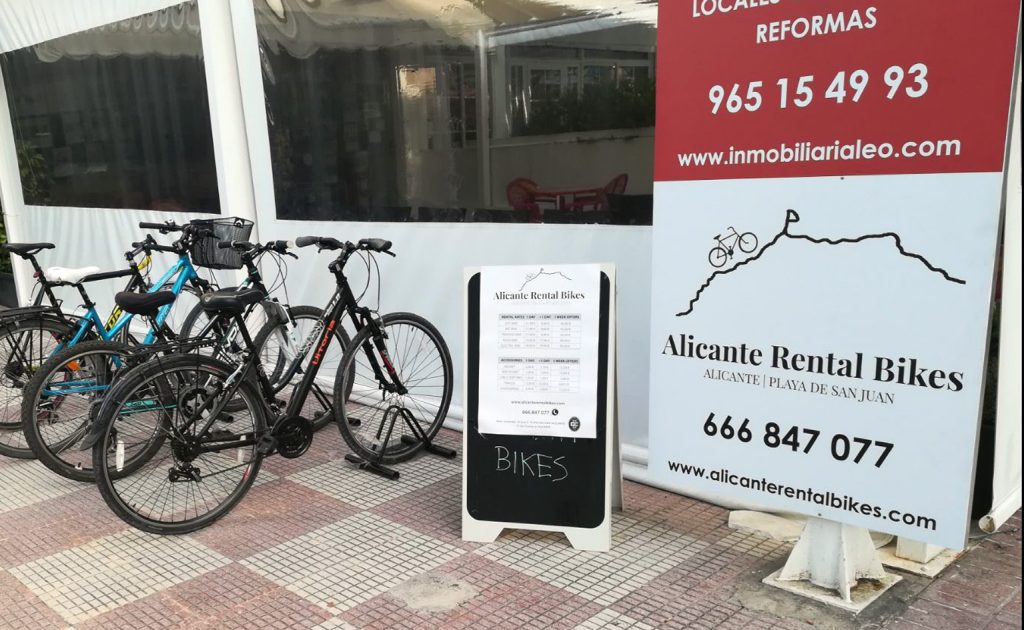 SAN JUAN BEACH BIKES RENTAL OFFICE – ADVANCE BOOKING